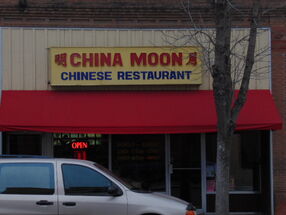 China Moon is a Chinese Buffet. They are the best Chinese Buffet in town. Though when they are really busy the refilling of the buffet can be slow. Its a little run down and dark but the food is pretty good. You dont have to get the buffet either, they do have a seperate menu you can order from. They also take out. 
Their website is http://www.chinamooncrookston.com/home-page
Facebook page https://www.facebook.com/pages/China-Moon/117758314917641
They can view the menu at http://www.viewmenu.com
They are located at  114 S Broadway, Crookston, MN 56716.
Phone:(218) 281-3136