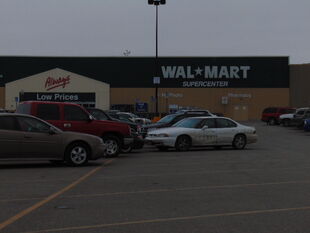 Walmart is a main source of goods in Crookston. They have groceries, electronics, toys, a pharmacy, housewares, garde supplies, tools, office supplies, and automotive. It also has a photo printer and film developing. A hunting and fishing license station is in sporting goods. It is also open 24 hours a day (excluding certain holidays. Walmart Money Center can cash checks and issue money orders.
During peak times (often the afternoons) wait times can be very long. During off times (nights) trying to find assistance on the floor is incredibly difficult. 
Grocery: Standard assortment of groceries. Often a lower price than Hugo's.
Sporting goods: A small assortment of indoor and outdoor sporting supplies. Buying steel shotgun shells during wtaerfowl season is near impossible as it is often out of stock. Worms, nightcrawlers, and wax worms are available.
Automotive: There is no Tire and Lube Center at this location.
Health and Beauty: There is no Smartstyle Salon or Vision Center at this location.
Pets: There are no freshwater fish at this location.
Phamacy hours: Mon-Fri: 9:00am-9:00pm
                   Sat: 9:00am-7:00pm
                   Sun: 10:00am-6:00pm
Pharmacy Phone: (218) 281-6170
Website: http://www.walmart.com/
Facebook: https://www.facebook.com/walmart
Twitter: https://twitter.com/walmart